Meet the Rubyyaya designer
Posted by GRACE ANDERSON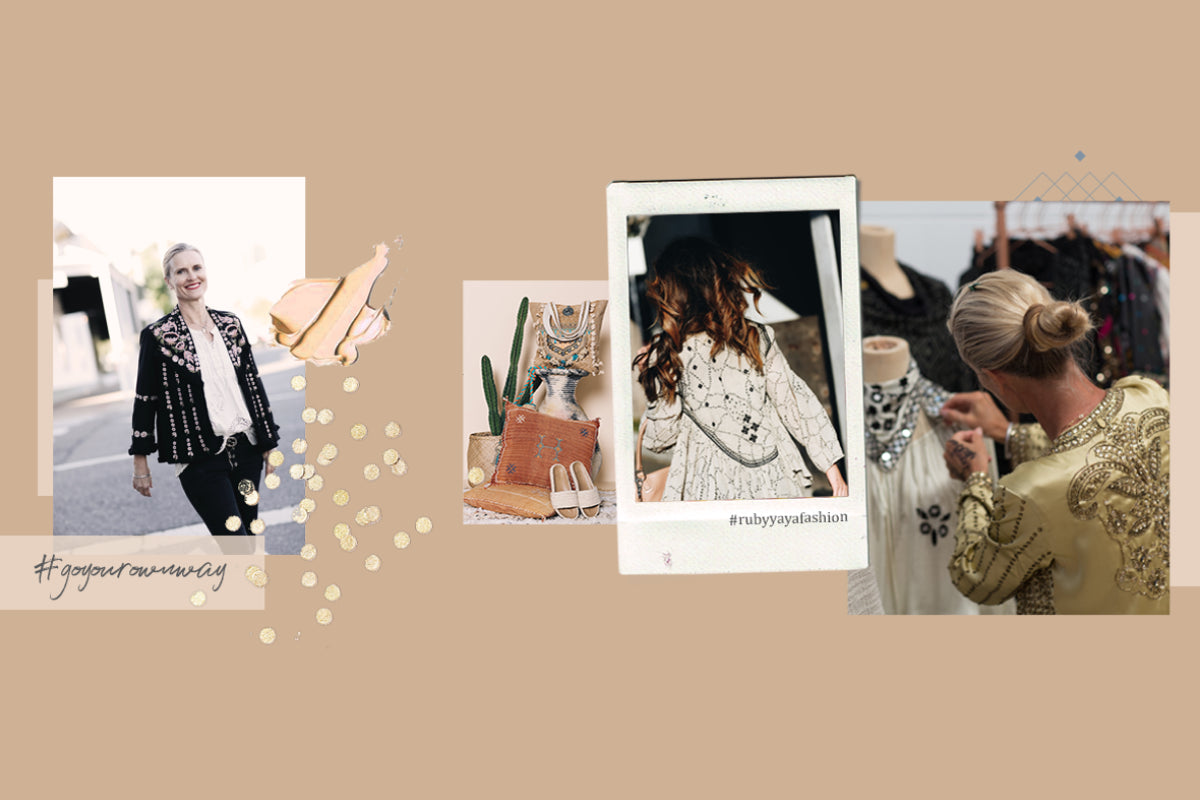 Rubyyaya celebrates the love of travel and artisanal products, while promoting fair labour practices. Rubyyaya is designed to offer countless combinations of effortless elegance. Today we met with the beautiful and wonderfully talented designer of Rubyyaya, Mel as we discuss the brand, her vision and what's next for Rubyyaya.
What is Rubyyaya about and when did your journey begin?
Rubyyaya began as an Australian resort wear brand in 2013. The Rubyyaya customer is provocative, cool yet thoughtful, she loves to travel the world and enrich her spirit with ancient secrets. She's not afraid of being different and is always the first to test boundaries. She is the type of woman who always appears so effortlessly chic. Rubyyaya is a fusion of embroideries, print, colour and eclectic spirit. We aim to blend traditional handmade techniques with modern functional design. We are not interested in dressing catwalk models; we make clothing for real women going about their hectic lives.
Why did you choose the clothing industry?
My husband was already running a very successful menswear clothing brand, therefore, it was a natural progression for me from working with textiles and then into establishing a womenswear brand in the company.
How has your brand evolved over time?
In the inception of Rubyyaya I concentrated on casual cotton dresses that were easy care, easy wear. My original mantra was "twist and travel" all our garments were delivered in a knot and once washed they were to be twisted back into a knot giving a casual rumpled elegance that was easy to throw into a suitcase and did not need ironing. However, as time progresses, my interest and direction has evolved and is always changing. I am conscious of latest trends but try to adapt them to suit my Rubyyaya customer. We still produce these garments but also do an extensive range of beaded garments.
What is your inspiration?
I draw influence from a multitude of countries that I have visited during my Rubyyaya journey. Each country has their own style, textiles and culture. The colour, fragrances and constant activity in India are completely transfixing. There is a wealth of local products and incredibly skilled artisan in India that give soul to clothes.
What is your motto in fashion?
SUCCESS IS NEVER OWNED; IT IS ONLY RENTED - AND THE RENT IS DUE EVERY DAY. I keep in movement, that´s the key to find and discover new fonts of inspiration.
What are you top 6 styles from the current collection?
I must say that i do love each and every piece that i create, but my favorite 6 that Kabana stocks would have the be the fame jacket, pricislla patch skirt, isabella jacket, palm wrap maxi, violet wrap maxi and lulang dress. I would have to say these styles are the most flattering shapes for every body shape and that is why i love them!
Shop Mel's top 6 styles below:
--- Collection 2019 Sale 70% Off Title for image